Technically Advanced - Minimally Invasive Cancer Surgery approaches
Cancer is the most deadliest disease in the world. Every year ten million new cases are identified and it may increases to 20 million by the year 2020. Early-Stage cancer can be cured by different treatments like chemotherapy, targeted therapy, surgery, radiation therapy etc. The surgery plays an important role in early and mid-stage cancer treatments.
Cancer surgery is done to remove cancer tumors and nearby affected tissues. It is an effective treatment option for many cancers. Surgery is the best option for getting rid of the cancer tumor, especially if it hasn't spread to nearby organs. Most of these advance cancer surgeries are carried out only in some of the renowned hospitals in India. To know more about such hospitals for cancer treatment and the facilities they provide take a look at the list of best cancer hospital in India.
Types of cancer surgery
The cancer surgeries are mainly divided into two parts:
1. Conventional Open Surgery – Open surgery is performed via a large incision to remove the cancer tumor and nearby tissues.
2. Minimally Invasive Surgery – In the minimally invasive surgery, small tools like pinhole camera, and other types of equipment are used to perform surgery to remove cancer tumors and affected areas.
Techniques used in Minimally Invasive Surgery for treating cancer are as follows:
1. Laparoscopy cancer surgery
Laparoscopy cancer surgery is one of the scientifically advanced techniques of cancer surgery. It is performed through a small incision. There are one pinhole camera and other surgical devices inserted into the body during the surgery.
Minimally invasive surgeons require a high level of expertise and experience in the field of surgical oncology. According to one of the best oncologist in India, Dr. Sandeep Nayak laparoscopic cancer surgery provides the most effective and positive outcomes. Dr. Sandeep Nayak is a pioneer in laparoscopy cancer surgery in India. Regarded as one of the best surgical oncologists in India with a fellowship in minimally invasive surgery (Laparoscopy cancer surgery, Robotic onco – surgery).
In laparoscopy cancer surgery, the laparoscope and other instruments do not create much disturbance to other internal organs. In this surgery, the surgeon has all the control over the surgical instrument's movement with help of the precise view from the connected monitor.
2. Robotic cancer surgery
Robotic cancer surgery is the advanced technique used to treat a cancer patient. Robotic cancer surgery is done via the "Da Vinci" robot. Da Vinci robot has several arms that are inserted via small incision in the body. Through these incisions the robotic cancer surgery is performed by the minimally invasive surgical oncologists.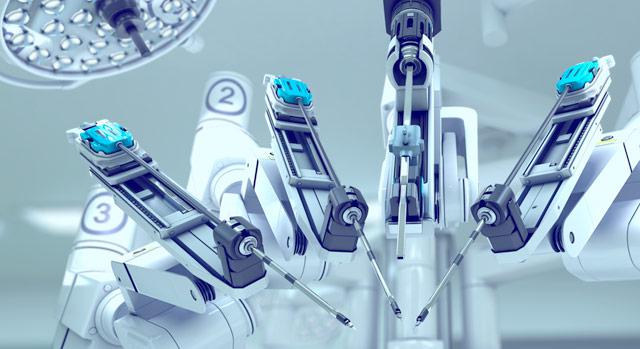 Important characteristics of robotic cancer surgery are as follows:
1. Robotic cancer surgery helps in preserving healthy tissues.
2. It can access the areas which are difficult to access in open cancer surgery.
3. Da Vinci robot helps in better visualization of organs during the surgery.
4. Robotic cancer surgery provides a very high level of surgical accuracy during surgery.
Dr. Sandeep Nayak is specialized in Robotic cancer surgery and he has treated many cancer patients using minimally invasive surgery techniques. He has exceptional surgical skills in minimally invasive surgeries, having an extensive experience of more than 20 years, Dr Nayak is also the Director of department of Surgical Oncology at Fortis Hospital.
Robotic cancer surgeries are used to treat areas that are difficult to reach and require a high rate of accuracy. This surgery helps to treat various cancers like the esophagus, stomach, throat, colon, liver, prostate and many gynecologic cancers.
3. MIND (Minimally Invasive Neck Dissection)
Dr. Nayak is also the pioneer of Minimally Invasive Neck Dissection technique in India. MIND surgery is used to treat oral cancer or throat cancer. In this method, 3-4 incisions are made nearby the color bone for clear access to the tumor in the neck.
Minimally invasive neck dissection (MIND) is a developed version of laparoscopy surgery for throat or oral cancer treatment. Minimally invasive neck dissection provides several benefits to the patients as compared to basic traditional neck dissection.
4. RABIT (Robotic-assisted breast axillo insufflate thyroidectomy)
Robotic-assisted breast axillo insufflate thyroidectomy (RABIT) is introduced by Dr. Nayak in India. the surgery is performed by lifting the breast skin to get access to the thyroid gland. Dr. Sandeep Nayak prefers the RABIT technique over traditional open surgery because of easy flow of the treatment.
Why Dr. Sandeep Nayak is the suitable choice for Cancer Treatment?
Dr. Sandeep is one of the leading surgical oncologists in India. He is the director of surgical oncology at Fortis Hospital, Bangalore. He is also the chief of MACS clinic, Bangalore. He has more than 20 years of experience in surgical oncology and cancer treatment. Dr. Nayak always prefers minimally invasive surgery over conventional open surgery. The advantages of minimally invasive surgery are less pain, fastest recovery, minimal scars, etc.
He has performed more than a 100 cancer surgeries successfully. If you want to know more about minimally invasive cancer surgery then you visit MACS clinic, Bangalore or Fortis Hospital, Bannerghatta, Bangalore.